HDG Soil Nail in Dia28mm Grade 500 for Slope Stabilization
Product Detail
Parameter
Mechanical Properties
Product Tags
HDG Soil Nail in Dia28mm Grade 500 for Slope Stabilization
Product Introduction
Soil Nails (or PT bars) are high-strength, high-precision, straight-line steel bars with external threads on the entire steel bar. The steel bar can be screwed onto the connector with internal threads at any section or screwed with a threaded nut with internal threads for anchoring. The utility model has the advantages of simple connection and anchorage, strong adhesion, safe and reliable tension and anchorage and the like, and is a novel material for developing prestressed concrete component.
Soil Nails are currently used to anchor and support the dam body form of the dam foundation. In the cable-stayed bridge, fully threaded bars are used as the main ribs and bridge foundations of the main tower. The use of fully threaded steel bars saves steel, reduces component area and reduces component weight.
The continuous external thread is hot rolled. The shape of thread bar is shown as following figure. The main dimension ranges from ⌀15mm-⌀50mm and the grade ranges from 500/630Mpa to 1200/1330Mpa.

| | |
| --- | --- |
| Product Name | Soil Nail in Dia. 28mm Grade 500 |
| Yield Strength | 500Mpa |
| Tensile Strength | 630Mpa |
| Elongation | 10 |
| Length | 12m or any length you need  |
| Technique | Hot Rolled  |
| Diameter available | 20mm, 25mm, 32mm, 36mm, 40mm  |
| Accessories | Nuts, Couplers, Plates, Washer, Centralizer |
Company Introduction
Since the establishment of the company in 2008, Tianjin Cathay Pacific Steel Co.,Ltd has focused on Screw Threaded Steel products and related construction products. The products on the market are: FT Bar, its accessories: nuts, plates, couplers, spiral bars, PC strand wires and anchors, metal and plastic ducts, etc.
Our company always regards product quality as the lifeline of the company, adheres to the rigorous, efficient and innovative concept to serve customers, and we are willing to cooperate with new and old customers at home and abroad to provide customers with better quality service and quality products.
The Projects We Participated in:
1. Hongkong- Zhuhai-Macao Bridge
2. Mongolian Shangri-la Hotel
3. The Uzbek Railway Engineering
4. Cambodia San Secondary Hydropower Station
5. Brunei PMB Cross- Sea Bridge
6. Malaysia DASH CB4 Expressway Project
7. Papua New Guinea Hilton Hotel
8. Bangladesh Airport Projects
Application: Bridge, Tunneling, Mining, Soil Nailing,  Slope Stabilizing,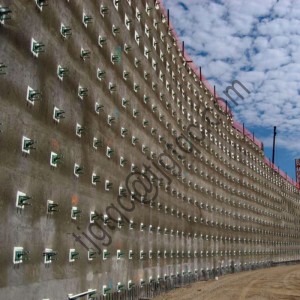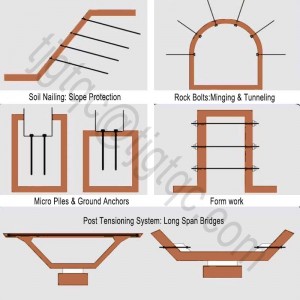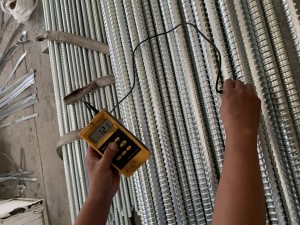 Contact Information:
Wendy Lee
Tianjin Cathay Pacific Steel Co.,Ltd
Email: tjgtqc@tjgtqc.com
Mobile/WhatsApp/WeChat :+86-176 1227 5091
Add: B10-1-2, Kexin Industrial Area, Beichen District, Tianjin, China
---
---

Nominal Diameter
Diameter
H
B
L
Nominal Section
Nominal Weight
Dv
Dh
mm
mm
mm
mm
mm
mm
mm2
kg/m
15
15
15
1.0
4.5
10
176
1.47
18
18
18
1.0
4.0
10
254.5
2.11
20
20
20
1.3
4.8
10
314
2.47
25
25
25
1.6
6.0
12
490.9
4.10
32
32
32
2.0
7.0
16
804.2
6.65
36
36
36
2.5
8.0
18
1018
8.41
40
40
40
3.0
8.0
20
1256.6
10.34
50
50
50
3.0
9.0
24
1963.5
16.28
60
60
60
3.0
10.0
22
2827
23.26
63.5
63
63.5
3.0
12.0
22
3167
26.20
65
65
65
3.0
12.0
22
3318
27.470
70
70
70
3.0
12.0
22
3848
31.8
75
75
75
3.0
12.0
22
4418
36.9
Grade500/630
NominalDia.
CrossSection
YieldStrength
TensileStrength
YieldLoad
UltimateLoad
Elongation
NominalWeight
mm
mm2
>=Mpa
>=Mpa
KN
KN
A/%
KG/m
20
314
500
630
157
198
10
2.47
25
491
500
630
246
309
10
4.1
28
615
500
630
308
387
10
4.83