Fully Threaded Steel Bar PSB930/1080
Product Detail
Parameter
Mechanical Properties
Product Tags
Fully Threaded Steel Bar PSB930/1080
The continuous external thread is made by hot rolling method. The shape of thread bar is shown as following figure. The main diameter is 15 mm to 75 mm and the strength is 500MPa to  1080MPa.
Fully Threaded Steel Bars / Post-Tensioning Bars
Grade: PSB930
Length: 6m,9m, and 12m or Cutting sizes as requests.
Application: High-speed Railway, bridge, concrete anchoring system, form work panels,  industrial facilities, precast-construction, water treatment plants

Nominal

Diameter

Diameter

H

B

L

Nominal Section

Nominal Weight

Dv

Dh

mm

mm

mm

mm

mm

mm

mm2

kg/m

15

15

15

1.0

4.5

10

176

1.47

18

18

18

1.0

4.0

10

254.5

2.11

20

20

20

1.3

4.8

10

314

2.47

25

25

25

1.6

6.0

12

490.9

4.10

32

32

32

2.0

7.0

16

804.2

6.65

36

36

36

2.5

8.0

18

1018

8.41

40

40

40

3.0

8.0

20

1256.6

10.34

50

50

50

3.0

9.0

24

1963.5

16.28

60

60

60

3.0

10.0

22

2827

23.26

63.5

63

63.5

3.0

12.0

22

3167

26.20

65

65

65

3.0

12.0

22

3318

27.470

70

70

70

3.0

12.0

22

3848

31.8

75

75

75

3.0

12.0

22

4418

36.9
Mechanical Properties
Grade

930/1080

Nominal

Dia.

Cross

Section

Yield

Strength

Tensile

Strength

Yield

Load

Ultimate

Load

Elongation

Nominal

Weight

mm

mm2

>=Mpa

>=Mpa

KN

KN

A/%

KG/m

25

491

930

1080

457

530

6

4.1

32

804

930

1080

748

868

6

6.65

36

1018

930

1080

947

1099

6

8.41

40

1257

930

1080

1169

1358

6

10.34

50

1964

930

1080

1827

2121

6

16.28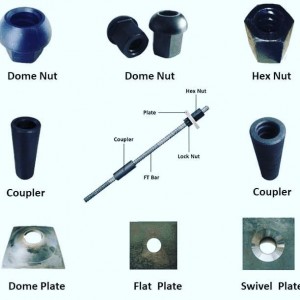 ---
Previous:
PC Strand Wire
---

Nominal Diameter
Diameter
H
B
L
Nominal Section
Nominal Weight
Dv
Dh
mm
mm
mm
mm
mm
mm
mm2
kg/m
15
15
15
1.0
4.5
10
176
1.47
18
18
18
1.0
4.0
10
254.5
2.11
20
20
20
1.3
4.8
10
314
2.47
25
25
25
1.6
6.0
12
490.9
4.10
32
32
32
2.0
7.0
16
804.2
6.65
36
36
36
2.5
8.0
18
1018
8.41
40
40
40
3.0
8.0
20
1256.6
10.34
50
50
50
3.0
9.0
24
1963.5
16.28
60
60
60
3.0
10.0
22
2827
23.26
63.5
63
63.5
3.0
12.0
22
3167
26.20
65
65
65
3.0
12.0
22
3318
27.470
70
70
70
3.0
12.0
22
3848
31.8
75
75
75
3.0
12.0
22
4418
36.9
Grade500/630
NominalDia.
CrossSection
YieldStrength
TensileStrength
YieldLoad
UltimateLoad
Elongation
NominalWeight
mm
mm2
>=Mpa
>=Mpa
KN
KN
A/%
KG/m
20
314
500
630
157
198
10
2.47
25
491
500
630
246
309
10
4.1
28
615
500
630
308
387
10
4.83